Special Message: Jesus loves you so much that He is allowing you to access this site, so you can read about what it takes to go to heaven. You truly are blessed. Please take some time and discover how to avoid going to hell. Jesus wants you in paradise, in heaven. That's the home He has prepared for you.
Dear Special-One-to-God, Yes that's You: This site provides much content on hell--not to scare you. Why? Many don't believe it's a real place after death, so we will like to give you a heads-up. It is one place you don't want to find out by experience because there is no coming back and it's forever. Yes, God is LOVE but He cannot accept SIN in heaven, though He will always love the sinner. He is LOVE but don't take his love for granted. Many have and are regretting it even as you read this message. Thanks for being wise about where you wish to spend life after you depart this world.
Don't be fooled: Please know that resentment and bitterness toward Jesus does not alter His perfection in love for you. Such emotions only hurt the person. Further, there is no reason for such passions against Jesus. Why? Think about it - If He wants to destroy the world right now or even inflict serious pain on a person, who can stop Him? Be assured that Jesus is on your side, and unlike no other, He has your concerns in His heart. I am entirely convinced of this!

A special note:
Sin is very costly and if anyone ignores or fails to accept the gift of salvation (by seeking forgiveness daily and walking uprightly) the penalty is eternal death, total separation from God for all eternity in the lake of fire talked about in the book of
Revelation
. Time is really precious and each of us is given the opportunity to make all things right with God before the end comes. Let's not romanticize or trivialize our existence on earth. Like ever before, the devil is operating the largest deception ring, the largest
Ponzi Scheme
because he does not have anything, yet trying to sell everything. God doesn't make mistakes; He does not have time for idleness. He has created you and me for a specific reason. Let's pray and seek that understanding. LIFE IS VERY SERIOUS, MORE SERIOUS THAN WORDS CAN SAY OR ONE'S IMAGINATION CAN GRASP with mortal effort. LET'S ALWAYS PRAY AND SEEK FORGIVENESS EVERYDAY. REMEMBER, THE LORD IS MOST EFFICIENT, HE DOES NOT MAKE MISTAKE AND EACH OF US IS HERE FOR REASON. NB: The capitalization has been used to express seriousness and urgency.
Don't be tricked: Recently, Pope Francis openly denounced the holiness of God's only son by saying that Jesus is not divine, just a man. Such nonsense and hellish statement should forewarn followers of the quality of their "spiritual" leader.

Hello,

After reading the second chapter of Lamentations, all I can say is Lord have mercy on humanity, have mercy on us. Far too many have an inadequate understanding of the nature of God. Yes, though we as mere mortals will never fully comprehend the extent of His mercy and power, somehow we each have to grapple with the true statement that God will pour out His wrath against sin, against unrepentance. Many people relax in the truth that since God is eternally good, they will enter heaven by their kindness as if charity alone can ransom them from eternal destruction. God loves deeply, but He also punishes deeply. We are not to trivialize the personality of God and His perfect commitment to holiness. We have to strive to respect Him by living upright lives, and then we won't have to worry about His wrath.


---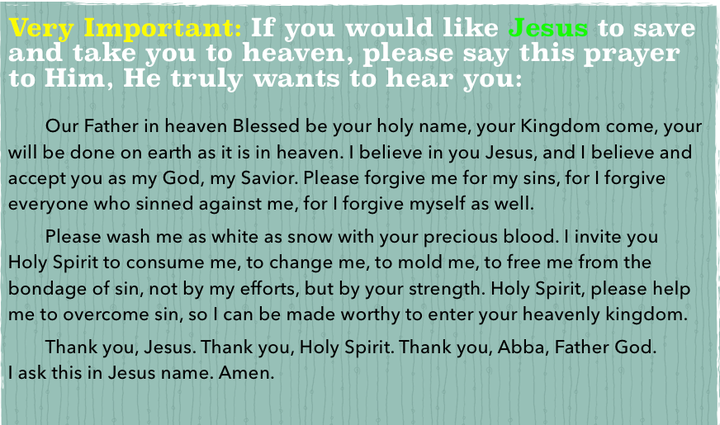 Hello,

Let's consider God's perfection, and also look at the eternal danger of failing to pursue God in righteous living. For God to execute His plan in and through us, we each have to be willing hearts to give Him control of our all. Why? He will not bombard or overwhelm us; the devil will try to do exactly that. God is gentle and honoring.

I believe we would agree that the Lord is perfect. The plans and actions of the Lord are without flaw. Yes, His will is to complete heavenly activities or purposes in us and through us, perfectly. After all, perfection is perfection, and there is no substitute. Perfection means God cannot lie; He cannot lead astray in any manner. Similarly and conversely (you get the point), the devil himself is perfect but in another way. What? Yes, he is a complete liar, he does not recognize the truth; he is perfect at deception.

James 1:17 Every good and perfect gift is from above, coming down from the Father of the heavenly lights, who does not change like shifting shadows.

An illustration of a lie is certainly not restricted to vocal expressions. In the perfect sight of God, a lie is anything that one expresses or delivers, vocally or otherwise, with the intention to sway a targeted body toward a certain finish, a false one yet.

I have just said that much to defend the key point, God's punishment is also perfect. Therefore, if one can think about and accept the possibilities of blissful interactions with God, it is consistent, and perfectly so, to realize the opposite is also true. It is not the lack-of-love of God that sends a soul to eternal darkness, it is the fact that sin cannot reside in heaven, darkness cannot coexist with light. Therefore, keep praying and repenting. Repentance is not simply saying some prescribed words, such as "Lord, forgive me for my sins, and I repent of them." True repentance is a godly lifestyle; action must come after prayer and confession.

I hope you find this helpful.


Here is the YouTube link to the blasphemy and fallacious utterance by Pope Francis, one who should be promoting the divinity and holiness of God's precious Son, Jesus Christ: http://youtu.be/cREBiH2QAkU

---